ADJUSTABLE INFLATABLE HEADER

8'0" W X 10'0" H OPENINGS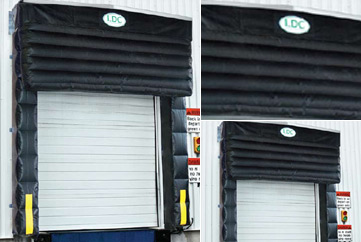 Generally designed to suit 8´ wide x 10´ high openings. The series
D350 service a large variety of trailer heights. This unit minimizes
pressure against the building wall from an incoming trailer as the
unit is infl ated after the trailer has docked.

A unique internal baffle system in the vertical air bags creates a
square faced design that increases the contact area against the
back of the trailer. An internal retraction spring allows the header
air bag to be fully retracted when not in use to prevent damage
from incoming trailers.

SAVE money with reduced energy costs
IMPROVE working conditions by keeping out dirt, debris & insects
PROTECT product & personnel from harsh weather conditions
INCREASE PRODUCTIVITY with a safe & comfortable working environment
DURABLE Hi-Performance fabrics in a wide range of colours
CUSTOM sizes available to suit any loading dock specifications