Designed and Engineered for Versatility, Manufactured to Last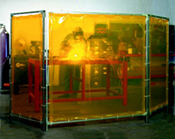 Get more use from your existing facilities and create better environments for employees and customers withLoading Dock Company's full line of industrial and commercial curtains and enclosures.
Transform your Workspace – Create temporary or permanent partitions, screens, doors and full enclosures quickly and easily with simple set-up, operation and teardown.


Separate environments while allowing easy access
Customized to your needs

Save Money – Reduce HVAC costs and create practical workspaces at a fraction of the cost of permanent renovations.
Improve Safety

Control chemical sprays, dust and airborne particles
Block welding sparks
Reduce noise and odours
Meet fire regulations
Quality & Durability
Your LDC Curtain or Enclosure is designed, engineered and built to superior standards so you can depend on getting the highest measure of performance and durability:
Tear Resistant
Prevents Moisture Damage
UV Protection
Resists Rot
Resists Most Chemicals


Your LDC equipment will perform to your specifications and expectations, or better.
Call

1-866-864-5265
or
Contact
an
LDC specialist today
for a
No Charge
,
No Obligation
consultation and take advantage of the LDC difference.