STATIONARY TRUCK SHELTER

10'0"W X 10'0" H OPENINGS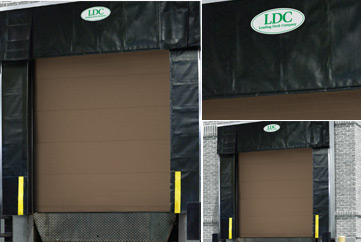 Generally designed to suit 10´ wide x 10´ high openings. The series D400 provides full access to the rear of the trailer while creating a tight seal against the top and sides of the truck.
Wear fl aps are located on the head curtain at the contact areas and a double layer of fabric is sewn onto the bottom 24˝ of the side curtains for added reinforcement.
With one of the largest selections and colours of fabrics available, LDC can offer the ideal solution for your unique loading dock requirements.
SAVE hundreds of dollars in reduced energy costs
IMPROVE working conditions by keeping dust, dirt, debris & insects out
PROTECT product & personnel from harsh weather conditions
INCREASE PRODUCTIVITY by providing a safe & comfortable working environment
DURABLE range of Hi-Performance fabrics to choose from
CUSTOM sizes available